Deer Run
Sorry we are experiencing system issues. Please try again.
Deer Run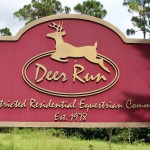 Deer Run is a luxury equestrian community located in Loxahatchee, Florida. The community consists of 250 five-acre lots, each are connected to the riding trail system.
Situated in a lush, natural area, the estate homes are guarded by gated security and are accessible by paved roads. Residents include equestrians, animal lovers, naturalists, gardeners, and many families who simply enjoy the outdoors. You may catch a glimpse of Florida wildlife including river otters, deer, foxes, raccoons, alligators, and countless species of birds
Platted in 1978, Deer Run is governed by a Property Owners Association which has a five member Board of Directors. Homes in Deer Run feature stunning Mediterranean and Ranch style homes ranging in size from 2,000 – 7,000 sq. ft. These luxurious homes feature riding arenas, and well-built barns that match the elements of the main home.
Deer Run is adjacent to White Fences and White Fences Equestrian Estates, home of the Palm Beach Dressage Derby. Since most of the homes are a close to both of these show grounds, it's no surprise that many of the home owners are dressage riders who also compete in these shows.